Careers Evening 2015
12 June 2015
The Woodward Centre in Carlton was once again the setting for a fabulous VIIN Careers Evening. Postdoctoral researchers and postgraduate students heard about five varied and distinguished careers before chatting with the presenters over drinks and canapes well in to the night.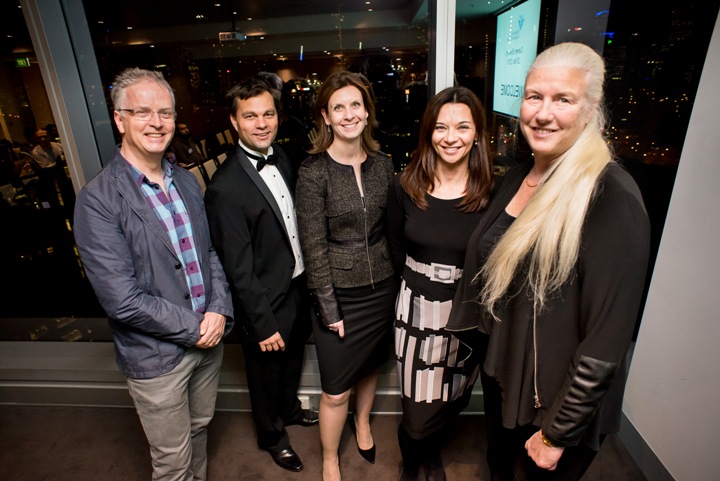 Pictured left to right: David Gearing, Chris Smith, Sarah Hennebry, Katherine Kedzierska and Jan Tennent
Nexvet's Chief Scientific Officer, Dave Gearing, began the presentations by detailing his journey from undergraduate student at Leeds University to Director of Research at CSL Ltd and the instrumental people along the way.
Chris Smith went to Cambridge on a CJ Martin fellowship and came back with an MBA and is now a Venture Capital Manager at Brandon Capital. Brandon Capital manages many Australian Life Science companies supported by successive Medical Research Commercialisation Funds.
Jan Tennent began her career in the Skurray Laboratory at Monash University, Department of Microbiology and is now CEO of Biomedical Research Victoria. Jan noted the importance of collaboration, and of establishing and nurturing networks.
Patent Attorney at Freehills Patent Attorneys, Sarah Hennebry had plenty of advice for attendees considering this as a career option. She outlined the qualifications and characteristics required and spoke of the value of persistence when it comes to landing the job you are after.
Katherine Kedzierska told of a more widely recognised career trajectory, one in academia. Katherine currently holds a NHMRC CDF2 Fellowship at the University of Melbourne and emphasised the value of mentors, working on more than one project at a time and loving what you do!