Introducing the Hudson Institute
10 July 2015
The Hudson Institute of Medical Research is the new name of the MIMR-PHI Institute, formed by the merger of the Monash Institute of Medical Research (MIMR) and the Prince Henry's Institute (PHI) in 2014. It is located within the Monash Health Translation Precinct, adjacent to Monash Medical Centre in Clayton.
The name honours the late Professor Bryan Hudson (pictured below), who was instrumental in the origins of both MIMR and PHI. He was the first Professor of Medicine at Monash University and the Founding Director of Prince Henry's Hospital Medical Research Centre.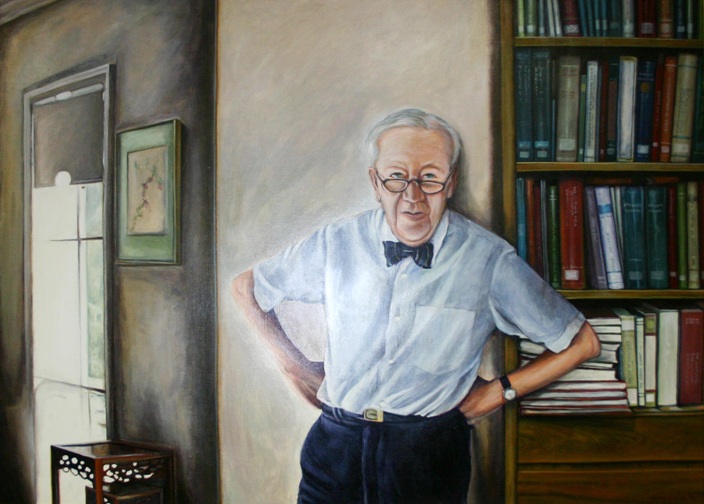 The Hudson Institute is home to the Centre for Innate Immunity and Infectious Diseases (CiiiD), led by Prof Paul Hertzog, VIIN Co-Convenor. Laboratory heads in the Centre include VIIN scientists, Dr Ashley Mansell (pattern recognition receptors and inflammation); A/Prof Richard Ferrero (gastric infection and inflammation); Prof Phil Bardin (Respiratory Research Laboratory); and Prof Brendan Jenkins (cancer and immune signalling). Scientists in CiiiD research the regulation of the innate immune response and are working on infections (influenza, herpes and HIV), inflammatory diseases (gastritis and chronic obstructive pulmonary disease), and cancers (stomach, lung and breast). CiiiD is one of the largest centres for innate immunity in Australia, bringing in nearly $3M p.a. in grants and its researchers publish in prestigious journals including Nature, Science, Nature Immunology, Nature Medicine and Cancer Cell.
The Hudson Institute is also home to other researchers working on a variety of problems in infection and immunity, including: Prof Bryan Williams (cancer and innate immunity, Director of the Hudson Institute); Dr Michael Gantier (RNA and innate immunity); A/Prof Marcel Nold and Dr Claudia Nold-Petry (inflammation in neonatal diseases); and Prof David de Kretser and A/Prof Mark Hedger (activin follistatin biology and inflammation).
Infection and immunity scientists at the Hudson Institute also work closely with other VIIN researchers at Monash University, particularly the School for Clinical Sciences at Monash Health, the Monash Health network itself, as well as at CSIRO, the University of Melbourne and the Burnet Institute.
Undergraduate, Honours, PhD and clinical students are all welcome at CiiiD.
For more information: http://hudson.org.au/research-centres/innate-immunity-infectious-diseases/
The Hudson Institute is one of VIIN's Contributing Organisations. Read about our other contributors here:
http://viin.org.au/contributors/